Le Grand Day of Indulgence
Chateau owner, 5 speakers, 30 wines, 50 guests, 200 bottles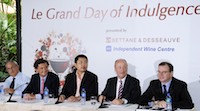 Guests of Honour:
Mr Philippe Sereys de Rothschild, Owner of Baron Philippe de Rothschild S.A.;
Mr Hevré Berland, Managing and Commercial Director of Château Mouton Rothschild

Speakers:
Michel Bettane, the most respected French wine critic in the world;
Thierry Desseauve, International acclaimed wine writer and critic;
Simon Tam, Greater China's foremost Chinese food and wine pairing expert


'A little Indulgence is non-negotiable' was the motto shared by 50 satisfied participants at Le Grand Day of Indulgence on 18th September. The Grand Hyatt Pool Room and the Michelin starred One Harbour Road Chinese Restaurant were the venues for a full day of delicious food and unforgettable wines.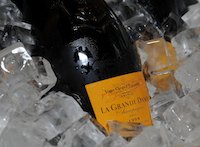 The day began with a Champagne tasting caviar brunch. All our senses were lifted to stratospheric heights by the newly released Champagne Salon 97. This was followed by two more elegant blanc de blancs Champagnes, including the delicious 95 Charles Heidsieck Blanc des Millénaires. Co-host and respected French wine expert, Michel Bettane, describes it as 'at its most delicious peak'. The second group of Champagnes included more typical blends of Chardonnay/Pinot Noir and finished with a pair from the wonderful 1998 vintage: the R. Lalou from Mumm and the incredibly elegant and unusually lean Veuve Clicquot La Grand Dame.

The Grand Hyatt's award-winning chefs created a special menu featuring kilos of Sevruga caviar to pair with the eight Champagne Deluxe Cuvées. Almost everyone agreed that the Sous-vide eggs (poached quail eggs) with sour crème and Caviar was a stunning match. Well done the Grand Hyatt.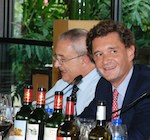 The highlight of the day was the vertical tasting of Chateau Mouton Rothschild guided by Chateau owner Mr Philippe Sevreys de Rothschild, and Commercial and Managing Director Mr. Hervé Berland, who flew into Hong Kong for less than 24 hours specially to tutor the tasting.

Guests tasted seven vintages of Chateau Mouton Rothschild: 2006, 05, 04, 03, 2000, 1996 and 1986, a 2005 Petite Mouton and the rare white Aile d'Argent de Chateau Mouton Rothschild. All wines were freighted directly from the Chateau.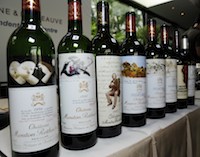 One of the participants remarked, 'It was truly entertaining with family stories and insights from Mr Sereys de Rothschild. Mr Berland detailed the conditions of the various harvests while Michel, Thierry and Simon elaborated the taste and stimulated discussion among us.'

Wine merchant and guest, Stephen Wickens, asked about the narrowing price points between Mouton Rothschild and Lafite. Mr Berland was quick to point out: 'at Mouton, we want our wines to be well distributed and enjoyed by wine lovers. Therefore, we do not look to others for our own pricing.'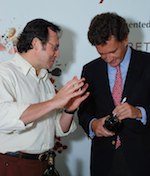 Many guests brought treasured bottles of Mouton Rothschild from their own collections for the owners to autograph, it was a wonderful occasion and many happy snappy pictures were taken as souvenirs.
Guests, who were mostly serious wine lovers, collectors and investors, were impressed with the Event. When asked why they were willing to pay $18,000 for a day of tasting, one participant replied that the presence of Mr Philippe Sereys de Rothschild was the biggest drawcard for him.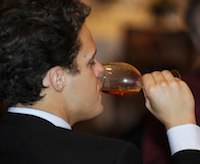 After the Mouton vertical tasting we moved to the Grand Hyatt's Michelin starred One Harbour Road Chinese restaurant to indulge in a back vintage tasting of Chateau d'Yquem, the worlds best sweet wine!

The tasting was equally remarkable. Guests were guided by experts Michel and Thierry to appreciate five vintages from the very pure and elegant 04 to the legendary and still incredibly fresh 1962 magnum.

Special guest for this tasting was Thibault Pontellier of Chateau Margaux.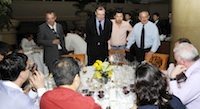 Finale of the day was the French wine and Chinese Celebration dinner, featuring relatively unknown but top quality French wine and modern Chinese cuisine prepared by Chef Tim, the celebrity chef of One Harbour Road Chinese restaurant at the Grand Hyatt. Simon expertly paired each wine and dish, guiding guests to a new level of culinary experience.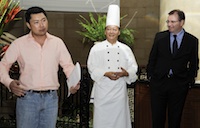 Some of the unusual but perfect pairings included the crispy roasted goose with Domaine Weinbach Gewurztraminer 08, simmered lettuce with Yunnan ham in bouillon with Jean Louis & Paul Aegerter Grands Echezeaux Grand Cru 05, tea smoked crispy chicken with Domaine Georges Vernay Cote Rotie 07, and the marinated pear in cinnamon blossoms with mild dark chocolate ice cream with Champagne Jacquesson Millésime 02. What a delicious treat to end a splendid day!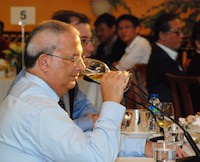 Michel said, 'The most fascinating feature of the day for me was the opportunity to exchange views and feelings with some of the most passionate collectors I have ever encountered. Their tasting abilities and their desire to deepen their knowledge, already considerable, were so different to the arrogant and stubborn attitude of too many French drinkers!'

Watch out for our next Le Grand of Indulgence in 2011. You can also email us your contact and we'll notify you of the next Le Grand Day of Indulgence later.


Acknowledgements
We would like to thank our friends who gave us their full support to Le Grand Day of Indulgence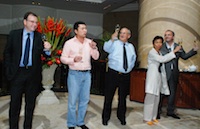 Amanda Parker, Berry Bros & Rudd
Anne Charlotte Amory, Charles Heidsieck
Baroness Philippine de Rothschild, Château Mouton Rothschild
Barry Burton, The Hong Kong Wine Society
Claudio Salgado, Grand Hyatt Hong Kong
Debra Meiburg, Master of Wine
Didier Depond, Salon - Delamotte
Don Hall, Total Macao Ltd
Frédéric Rouzaud, Louis Roederer
Geordie Willis, Berry Bros & Rudd
Greg De'eb, Crown Wine Cellars
Jean-Charles Viens, Grande Passione
Jérôme Philipon, Bollinger
Lau Chi Sun, Wine Now Monthly
Lionel Breton, G.H. Mumm
Patrice Noyelle, Pol Roger
Pierre Emmanuel Taittinger, Taittinger
Pierre Lurton, Château d'Yquem
Stéphane Baschiera, Veuve Clicquot Ponsardin
Stephen Wickens, Wickens & Co
Vincent Cheung, Commanderie de Bordeaux

and all the talented winemakers for unveiling their gems during the French wines and Chinese Celebration Dinner.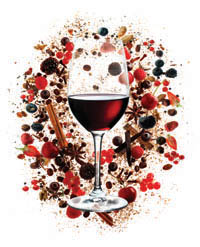 Click here for the tasting notes of all the wines tasted

Click here for more photos of the Day.

What did guests say?

Great fun, very well organised, very extravagant, and very positive comments by all!

A terrific day and a wonderful opportunity to taste some excellent wines with good friends.

Thank you for the great experience.

I had a great time and met some very interesting people.

The dinner was great on saturday, I have never tasted so many wines in one day.

We were truly totally indulged!

It was certainly a very special day. We both enjoyed ourselves very much. The champagne and the wine were fantastic and it gave us a detailed taste of great vintages.

Congratulations on a spectacular day of indulgence. I was really impressed! It was very relaxed without being fussy, and everything seems to run pretty smoothly. And of course the wines were incredible. I'd definitely recommend it to others next year.