Bettane & Desseauve presents 2010 Bordeaux ratings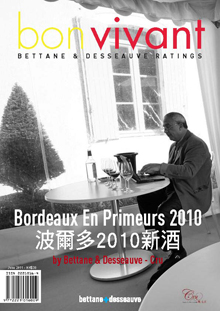 Michel Bettane and Thierry Desseauve are the most respected French wine experts in the world! Talk to chateau owners and grape growers anywhere in France and you will very quickly get a strong sense of how well respected these veteran wine writers and tasters are. Every vintage, they walk the vineyards throughout France before, during and after the harvest, talking to growers, tasting their juice and wine and very often assisting them with their blending.
Bettane & Desseauve have compiled reviews of hundreds of 2009 Bordeaux based on their comprehensive tastings in November 2009, February 2010 and the April 2010 Primeur Campaign. Where practical, wines from each chateau were tasted three times.
Sauternes and Barsac
2010 is yet another great vintage in Sauternes, a lucky continuation of a stunning succession, 2001, 2003, 2005, 2007, 2009. Never have so many interesting wines been made in five out of ten vintages, even so, let's not forget the surprisingly elegant examples made in 2002 and 2004. The style of this new vintage though, is not as easy to understand for many wine lovers because of the special balance of the harvest: very rich botrytised berries with a remarkable acidity, making for pure and crystalline aromas in the wine, closer to a Riesling TBA than the usual fat, oaky and slightly funky old-fashioned Sauternes! The summer was hot and very dry (one third of normal rainfall) and not very favorable to botrytis or even normal ripe berries, due to the hydric stress on the vines. A fortuitous storm happened on Monday October 4th, followed by perfect weather (rain, followed by sunny days and cool nights.) This was the starting point for an incredible concentration in the berries. In less than two weeks many properties had to pick almost their entire crop, scrambling to find harvesters in sufficient number, and to be able to press large volumes of juice every day. Climens used all three of its presses, Lafite workers came to cut grapes at Rieussec, discovering the beauty of the Sauternes landscape and light. In many cases it was better to cut entire bunches than select individual berries to get the right balance of sugar and acidity. It is difficult and even (arguably) stupid to judge the individual character of each "château" so early. But one thing is for sure, we disagree with the opinion of those who were not impressed by the wines saying they are lacking of botrytised character. Our guess is: many of them are masterpieces of modern sweet wines, rich, pure, true to terroir, but far easier to drink than in the past. Trust them and you will not regret it!

Château Suduiraut - Sauternes – 96/98
Château d'Yquem – Sauternes – 96/98
Pessac Léognan and Graves
A very good year across the board in this area, the whites are move lively and more aromatically complex than in 2009. We're back on the level of 2005, though with even more finesse. The reds have lots of personality, higher in alcohol than ever before, but they are balanced by an acidity that lends purity to their flavors. We are thrilled that a handful of unclassified growths are easily on par with the classified growths.
Château Mission Haut-Brion – 97/99
Château Haut-Brion – 96/98
Château Mission Haut-Brion - 97/99
Château Haut-Brion - 97/99
Medoc
The wines from the northern end of the peninsula are grown essentially on limestone soils differing greatly from the gravel soils found further to the south, and therefore do quite well in dry years like 2010. Unfortunately many wineries lack motivation and means, which prevents their wines from expressing the full potential of the terroir. Thus it is rare to find monumental wines, on the other hand, there are plenty of wines that are smooth and riper than usual that we will be more than happy to drink! And on occasion, as with Potensac or Goulée, they have risen to the level of some of their more famous colleagues in the more famous neighboring appellations.
Château d'Yquem sweet white, score 99-100
MARGAUX
The overall quality of the vintage is historic, there's not one substandard wine, all are eminently drinkable despite the tannic structure. Some wineries made the greatest wines in their recent history, and for some this is the first vintage that justifies their higher classifications.
Château Rauzan Segla - 95/97
Château Brane Cantenac - 95/97
Château Palmer - 96/97
Château Margaux - 97/98
SAINT-JULIEN
Yet another huge success for the appellation in this vintage. Remarkable quality across the board, very pure, balanced fruit, giving the impression of freshness despite the ripeness, imposing but not aggressive tannins. Some of the wines need a few more months to fully express their true greatness.
Château Gruaud-Larose - 95/97
Château Léoville-Poyféré - 97
Château Ducru-Beaucaillou - 97
Château Léoville las Cases - 95/97 or more
PAUILLAC
The most structured wines of the Left Bank (which is no surprise), remarkably homogenous, no underachievers for the first time since 1985. The Bordeaux lover will be able to fill his cellar at almost any price level with wines that are made for aging. We find similar sensations to that of 2000 or 2005 though with slightly more aromatic purity and above all better tannin management, despite the fact that the tannins are the richest they have ever been (70-90 IPT!)
Château Grand Puy Lacoste - 97
Château Latour - 98/100
Château Mouton Rothschild - 98
Château Lafite-Rothschild - 98
SAINT-ESTÉPHE
Overall it's a great year here, the wines are textured and harmonious, some of them are even "historic" for their formal perfection, here you will also find wines in every price range…well, almost. Don't be surprised if certain wines, which will be driven by the market, reach astronomic prices, there are plenty of others available in this great vintage.
Château Cos d'Estournel - 97/99
Château Calon-Ségur - 97
Château Montrose - 95/97
Saint-Emilion Grand Cru
The size of the appellation, the different terroirs, vinification styles and techniques used make it very difficult to sum up the character of the wines in just a few sentences. We'll try to outline a few key points. Overall the wineries located on the plateau made amazing wines, first and foremost the exceptional Cheval Blanc, but they are joined by several other examples. The wines can be compared to those of Pomerol, rich and velvety with, above all, more freshness and balance than elsewhere. As for the wines of the "côte", the very best combine the harmony and power typical of this over the top vintage, but only when the wineries made the right decision regarding harvest dates and vinification techniques. According François Mitjaville, this is the "more" vintage: more alcohol, more concentration, more tannins, and even more acidity. There are many wines from the "côte", from the sandy soils and the other terroirs of the appellation, that are heavy and high in alcohol with hard tannins, but the best are impressive for their restrained, velvety richness.
Château Cheval Blanc – 98/100
Château Ausone - 98
Pomerol
Not as easy to taste as the 2009s, the 2010s still show great potential, especially for the best terroirs on the plateau. These terroirs suffered less from the summer drought, enabling them to maintain better balance and acidity in the face of the ripeness of the year. Once you stray from the heart of the plateau though, the wines are much more irregular. Work in the cellar and the barrel aging must be handled carefully in order to avoid overstating the vintage.
Petrus - 98
Château Lafleur - 98