Welcome to the IWC's July edition of Yummy News, your one-stop-shop for all things delicious, from wines to try, food and wine pairing, restaurant reviews, details of our latest tastings on offer and so much more.
ON THE GRAPEVINE
IWC has a sleek new website

The new IWC website completely frames all the diverse IWC activities, particularly in wine education and cross-cultural wine consultancy.

Simon's has almost 20 years of experience in wine education and consulting in Greater China. It is very likely that your wine teacher was Simon's former student. Simon was also voted by UK's Wine Business International as 'The Best Wine Consultant'.

The IWC business continues to evolve to meet the needs of the wine lovers, the wine market domestically and internationally.

IWC 'Connects the Delicious West with the Thirsty East'. Click here to find out more.

South Africa Old Mutual Trophy Wine Show Awards



Miles Mossop of Tokara Winery

Click here for the full list of winners.

The results of the most important South African wine competition, the SA Old Mutual Trophy Wine Show was released just after the last issue of Yummy News. Even we are a couple of weeks out, Simon, the international wine judges was determined not to let these great South African wines slip out of reach. The winning list of wines represent some of the very best that is made in South Africa today. The winners list is a 'Great Shopping list ' too!!! Please click here to the SA Old Mutual Trophy Wine Show site

The Trophy (the best of the best) winning wines were:

Fairbairn Capital Trophy for the Most Successful Producer 2010: Tokara
Old Mutual Trophy for Best Red Wine Overall: Eagles' Nest Shiraz 2008
Old Mutual Trophy for Best White Wine Overall: Flagstone Word of Mouth Viognier 2008
Old Mutual Trophy for Discovery of the Show (Best Value): Pulpit Rock Reserve Chardonnay 2008
Old Mutual Trophy for Best Sparkling Wine: Anura Brut 2008

Vinexpo 2010 review

The VINEXPO circus has left us for another 2years. The organisers reported greater attendance from more country than ever. The exhibitors seem generally happy with their investment and show attendees all walk around with big smiles on their faces. Trade and not so peripheral' trade visitors attended many 'free wine tasting' staged by various wine countries, regions and companies, all in the name of trying to win Hong Kong consumers over.

Simon's Master Classes on 'Tasting Time' was happily well subscribed. As usual there was not enough time to address the many many enthusiastic questions on wine.




Simon's was also on the 'Jurade' the Jury for St Emilion Grand Cru. The celebrity panel all voted wines from Chateau Pavie as their favorite St Emilion over all. Congratulations to the Perse Family, the owners of Chateau Pavie and Grand Vins de Perse estates.

It was a week of endless events, dinners, master classes, hand shakes and free wine sampling that ultimately takes toll on the most seasoned professional. 'Detox' and 'Eating at home' were the slogans of the week after! Some wine merchants even 'left' Hong Kong to get away from it all..

Thanks god, we have two years to prepare for the next one!!!

Marchesi Pierro Antinori and Simon tutored a vertical of Solaia

It has been at least 13 years since the Marchesi Antinori, has visited Hong Kong. His family has been in the wine business for more than 600years. More recent fable successes includes Super Tuscans Tignanello and Solaia

Summergate Fine Wines, representative of Marchesi Antinori invited Simon to co-host the tasting of Solaia at the elegant Grand Hyatt Pool Side Saloon. More than 60 invited guests from Hong Kong's Food and Beverage industry and wine press attended this historical tasting.

The Solaia vintages tasted were…

78 Wet Spring. Dry Summer, Cool
88 Hot Summer= Low Acidity
94 Hot days. Cold nights, good balance in wine
97 Long hang time, Perfecto Grappola!!!
04 Similar to 97 with more finesse
06 Hot July. Cool Aug. Dry Sept. High Quality. High quantity
07 Better than 06. Hot days. Cold nights
IWC Friends: David Hohnen, founder of Cloudy Bay and Cape Mentelle
David dropped in to say hallo to the IWC team recently …but this time he was wearing a different delicious hat!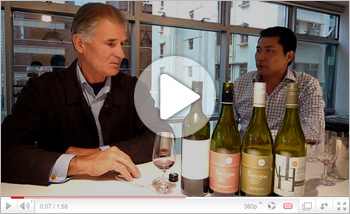 back to top
IWC TASTING & COURSES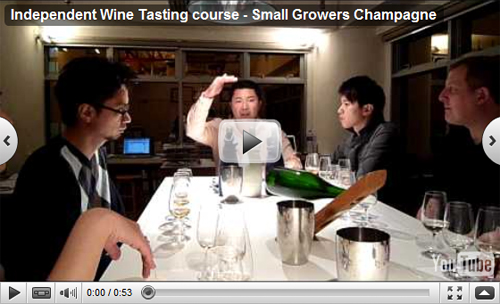 Here are our courses for July:
14th July: What is Simon Drinking? If you love single malts, then you MUST join Simon in this once in a life time tasting. There will never be another opportunities to taste these rare Single Malts. The limited edition, single cask bottling and rare cask strength malts were collected by Simon over the years.
Price: HK$1,000 per person
Book now
16th, 17th & 23rd July: Tasting Series 2: The Complete Wine Tasting Course
Format: 3 x 2.5 hour sessions. Price: HK$7,500 per person
Read more & book now
Upon Request: Tasting Series 3: Blend Your Own Bordeaux Challenge.
We just did a workshop for Luxe Dining, click here to see what they said.
Email us or call us on (852) 2549 0081 to discuss your booking.
BETTANE & DESSEAUVE TALK BORDEAUX
2009 Bordeaux primeur prices

| | |
| --- | --- |
| | I was one of the first experts to conclude that 2009 is a great vintage for Bordeaux wines, perhaps the greatest of my professional life. But the prices asked by the one hundred most famous properties are extravagant, and bear no relationship to their real use, drinking pleasure! Lafite and other first growths are asking more than 450 euros (taxes not included) which is more than twenty times their production cost. They are not to be blamed because they are now operating in a world where ultra rich people, ten thousand times as rich as you or I, want to buy them (and can) at any price. |

But it is hard to understand why so many producers went for an increase of 50% or more, which will definitely kill any consumption of their wines in normal places (private cellars, wine shops, restaurants etc...). The only explanation imaginable is that these wines are bought not by consumers but by speculative funds hoping for a further increase (which is already the case for first growths, to my regret), but with a large risk of taking a bad gamble, as happened in 2005 - you can buy them today at a lower price than two years ago! If the global economic crisis creates another crash, they will sell back their stock at a far lower price. If a new 'vintage of the century' appears in the next years, the fashion for a brand new story will eclipse even 2009's greatness and prices will go down again.

Click here for more Bettane & Desseauve's answers to 2009 Bordeaux questions
TASTE THIS SPACE
Gaja Brunello di Montalcino

Ms Gaia Gaja was in town again to launch the release of the new Brunello from Pieve Santa Restituta. We tasted five Brunellos over dinner including Rennina 1996 and 2004, and Sugarille 1999 and 2004. While all of them are yummy, the one that left the most impression was the Brunello di Montalcino Rennina 2004. It is fresh and full of vibrant aroma, surprisingly soft in the mouth and the tannin is smooth. On the other hand, the 04 Sugarille is like the big brother of t Renninia. The wine is more powerful and tannin more grippy. The oak flavour is quite strong but there is enough fruit concentration to balance it. The Sugarille is worth cellaring for another 5 years or so. Apart from the wine, I had the best al-dente risotto in Hong Kong
YUMMY QUIZ
Last month's winner is Chau Shing Lung. His answer is 'The photo was taken on a train (maybe Euro Express line). Yes, I think the freshness, acidity and bubbles of the champagne can help to improve and balance the cheese and barbecue flavour of the chips at the same time. Especially it is an "old vintage" champagne.' Congratulations Chau, you have won a bottle of yummy wine from Simon's cellar.
Hanif Kanji was the winner of November 2009 Yummy Quiz. It took us a while to locate Hanif to collect his prize – but better late and never….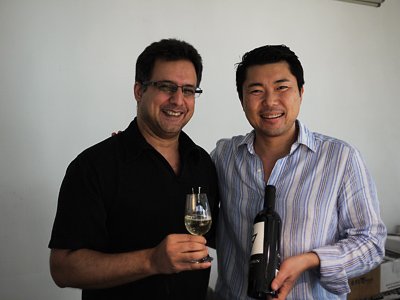 Hanif Kanji was the winner of November 2009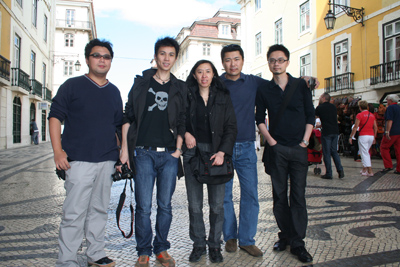 This month's question: Eddie and the founding members of The Greater China Wine Critics Association, Jordan, Alice, Simon and Ronny. Can you guess which country they are in?
Prize: A bottle of wine from Simon's cellar (with all his global wine travel, you know you'll be in for a treat!)
Get In Touch
For further inquiries, please visit our web site http://www.iwinecentre.com or email admin@iwinecentre.com or telephone :(852) 2549 0181