Welcome to the IWC's June edition of Yummy News, your one-stop-shop for all things delicious, from wines to try, food and wine pairing, restaurant reviews, details of our latest tastings on offer and so much more.
ON THE GRAPEVINE
2009 Bordeaux

Well, the 09 Bordeaux are tasted and rated! Everyone is eagerly or not so eagerly waiting for the Chateaux to release their opening prices. As in past years, the five First Growths will release their prices at roughly the same level and around the same time but market forces will ultimately determine how and where they will finish.

IWC and Bettane & Desseauve continue to bring you the latest on this significant 09 Primeur offering.

London International Wine Fair

And just across the English Channel, Simon attended the London International Wine Fair. He joined the other leading voices of the industry sharing, debating and exchanging facts and views on the eye catching Hong Kong and Greater China wine market. The New Zealand Winegrowers also invited Simon to share with the UK wine trade on how to match New Zealand's yummy aromatic wines with Asian flavours.

Simon and Tersina are tutoring Master Classes at

Vinexpo Asia-Pacific Academy


Click here to register

Bordeaux primeur: Experts ratings

The Bordeaux en primeur investment scene is hotting up. Most influential wine critics have released their 2009 Vintage ratings. While most experts agree that 2009 is a fantastic vintage, it is interesting to note that there are marked differences among these experts on certain wines.

France leading wine authorities, Bettane & Desseauve awarded three wines their perfect 100 points. Jancis Robinson gave 19 (out of 20) points to five wines and only one 19+. Robert Parker gave 100 points to 21 wines.

Below is a selection of 2009 Bordeaux wines and their scores:

| | | | |
| --- | --- | --- | --- |
| Wine | Bettane & Desseauve | Robert Parker | Jancis Robinson |
| AGREE | | | |
| Chateau Haut-Brion | 98 | 98-100 | 19 |
| Chateau Lafite-Rothschild | 98-99 | 98-100 | 19 |
| Chateau Latour | 98-99 | 98-100 | 19 |
| Chateau Margaux | 100 | 98-100 | 19+ |
| Chateau Petrus | 98-100 | 96-100 | 19 |
| DISAGREE | | | |
| Chateau Bellevue Mondotte | 95-97 | 95-100 | 16.5 |
| Chateau Cos d'Estournel | 90-96 | 98-100 | 16.5 |
| Clos l'Eglise | 93 | 96-100 | 16.5 |
| Chateau Montrose | 96-97 | 96-100 | 16.5 |
| Chateau Rollan de By | 91 | 90-92 | 14.5 |

Sources: Bettane & Desseauve and http://www.bordoverview.com/

Whose ratings should one trust?

Simon Tam, director of Independent Wine Centre, explains, 'There is no absolute right or wrong in the ratings. What's most important is for consumers to understand the critics' taste and is it compatible with their own likes and dislikes. The last thing wine lovers should do is follow ratings blindly.'

Click here for more 2009 Bordeaux scores.
back to top
IWC TASTING & COURSES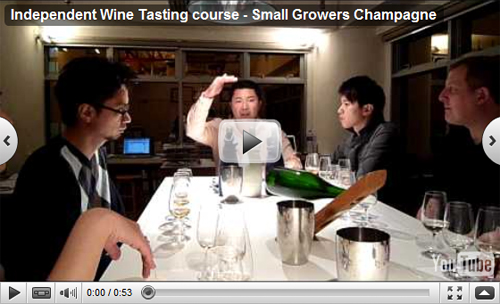 Click here to see what you will experience in our course. This one is from 'What is Simon Drinking?' on Small Growers Champagne.
Here's out courses in June:
24th June: What is Simon Drinking? If you love single malts, then you MUST join Simon in this once in a life time tasting. There will never be another opportunities to taste these rare Single Malts. The limited edition, single cask bottling and rare cask strength malts were collected by Simon over the years.
Price: HK$1,000 per person
Book now
18th, 19th & 25th June: Tasting Series 2: The Complete Wine Tasting Course
Format: 3 x 2.5 hour sessions.
Price: HK$7,500 per person
Read more & book now
Upon Request: Tasting Series 3: Blend Your Own Bordeaux Challenge with Tersina the Winemaker.
Email us or call us on (852) 2549 0081 to discuss your booking.
BETTANE & DESSEAUVE TALK BORDEAUX
2009 Bordeaux best deals

The 2009 vintage is special even for the more modest Bordeaux; they are harmonious, refined and sometimes very high class. Here are our favourites that should come reasonably priced on the market or deserve to find a local distributor: Clos des Baies (Saint-Emilion), la Pointe (Pomerol), Laroze (Saint-Emilion), Petit Gravet (Saint-Emilion), Tour de Sarrail (Bordeaux), Haut-Mazeris (Fronsac), les Trois Croix (Fronsac), Hostens Picant Lucullus (Bordeaux Sainte Foy), la Tour de By (Médoc), Lanessan (Haut-Médoc), les Eyrins (Margaux), Haut-Maurac (Haut-Médoc), Lilian Ladouys (Haut-Médoc), Gironville (Haut-Médoc)

Click here for more Bettane & Desseauve's answers to 2009 Bordeaux questions
TASTE THIS SPACE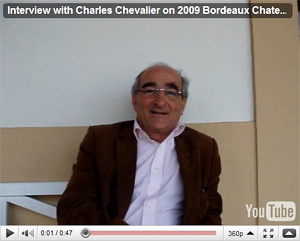 Charles Chevalier
is the Director of the Domaines Barons de Rothschild, which includes 1st Growth Chateau
Lafite
Rothschild in Pauillac. This is
what he has to say
about 2009 Chateau Lafite.
YUMMY QUIZ
Last month's answer is Pessac Leognan, specifically Chateau Latour-Martillac. The soils are made up of gravels terraces of very different eras and offers very good drainage to the vines. The winners are Chris Robinson and Mike Convey. Both Chris and Mike have won a bottle of yummy wine from Simon's cellar.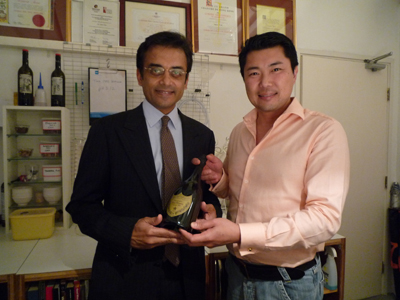 Dilip Ayyar was the winner of the Yummy Quiz October question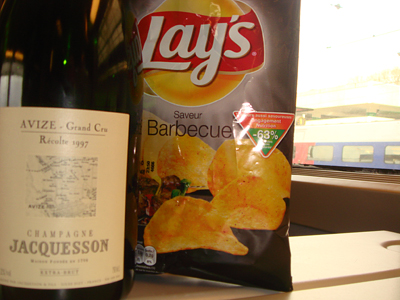 This month's question: This was Simon's lunch, where was the photo taken and do you think it is a good food pairing?
Prize: A bottle of wine from Simon's cellar (with all his global wine travel, you know you'll be in for a treat!)
Get In Touch
For further inquiries, please visit our web site http://www.iwinecentre.com or email admin@iwinecentre.com or telephone :(852) 2549 0181