Welcome to the IWC's April edition of Yummy News, your one-stop-shop for all things delicious, from wines to try, food and wine pairing, restaurant reviews, details of our latest tastings on offer and so much more.
ON THE GRAPEVINE
Simon reports from 2009 Bordeaux En Primeur

Simon has just returned home from Bordeaux after being invited by the Bordeaulaise as one of 120 journalists from around the world to assess the 2009 vintage.

Simon reports, "2009 was clearly a superior vintage for Cabernet Sauvignon, but really every commune produced extremely successful wine, be it red, white, sweet or dry. On the Right Bank Merlot and Cabernet Franc ripened successfully to produce wines of great intensity and density.

"As it turns out, all the pre-tasting hype of the 2009 vintage has been more than justified. In fact, wine communities around the world regard 2009 as one of the best vintages of the last 100 years."

Read more on Bordeaux from French partners Michel Bettane & Thierry Desseauve below, and stay tuned to Yummy News for more as the 2009 Bordeaux En Primeur campaign explodes around the world.

Simon's 2009 Bordeaux En Primeur Grand Cru Tasting Notes

Among the many wines Simon sampled while in Bordeaux, he brings Yummy News readers an exclusive taste of the best of the best. Click to read the following tasting notes on the IWC website (including why he gave Château Margaux 101 out of 100!):

Château Margaux - Simon's Score: 101/100
Château Latour - Simon's Score: 99/100
Château Haut-Brion - Simon's Score: 98/100
Château Mouton Rothschild - Simon's Score: 98/100
Château Lafite - Simon's Score: 97/100

IWC kicks off for 2010
back to top
IWC TASTING & COURSES
BETTANE & DESSEAUVE TALK BORDEAUX
Michel and Thierry talk on 2009 Bordeaux vintage

A Closer look at Saint-Estèphe

There are three very distinctive styles of Saint-Estèphe that are epitomised by three distinctly famous chateaux. Firstly Château Calon-Ségur (3rd Growth) is a traditionally aristocratic wine, made for long aging, very similar style to Château Lafite of Paulliac. Château Montrose (2nd Growth) is much more minerally, earthy, and elegant. The third style, represented by Château Cos d'Estournel (2nd Growth), is much more Mouton-like and, with the recent huge investment in the cellar (exactly how much is a secret to everyone except those who paid and received the cheque!), the wines styles are increasingly powerful and extremely modern.
TASTE THIS SPACE
Always endeavouring to bring Yummy News readers the latest global taste sensations, here's something different for this month's Taste this Space…

Ambassador Reserve Larger

In February, while in Australia "kung hei-ing for lai sze", Simon came across one of the world's most expensive beers, the Crown Ambassador Reserve. It comes in a 750ml champagne-shaped bottle, is released just once a year with each of the 6000 limited edition bottles individually wax-sealed and numbered. It retails for around AUD$75 (HKD$530).


Ambasador Reserve
PERFECT PAIR
Simon gets Crabby
While consulting in Australia recently, Simon visited Kangaroo Island, two hours drive away from Adelaide.

Crabbing is a fast growing industry there. This 60 year old crab weighed over 9kg! It is one of the most sought after delicacies in the world. It tastes somewhere between a lobster and a crab. What is most interesting is that, after the water drains from the inside, it loses almost a third of its weight and when replaced in the water, it actually floats and will 'drown'.

Other thriving industries in the region include cheese making, honey, freshwater marron fishing and, believe it or not, wine!

Check out Simon's wine pairing suggestions with crab 'Bei Fung Tong' style in his article for Gourmet in the Media Section of the IWC website.
SPOTLIGHT ON TERSINA
With winemaker and marketer extraordinaire Tersina newly onboard, we got up close and personal to give Yummy News readers the inside information on who the latest member of the team is and where in the winemaking world she has been.
After quitting her marketing career in Hong Kong, Tersina went to Plumpton College and got her Diploma in winemaking. It was a serious viticulture and vinification syllabus where Tersina even leant to drive tractor and all about spraying. She also passed the WSET Level 5 Honours Diploma with flying colours.
Tersina has worked at wineries around the world, including Adega do Cantor in Portugal (part owned by Sir Cliff Richard), Bookers in England, Domain Pertuisane in Southern France and Ashanti and Thelema in South Africa, among others.
Tersina says "I just love to get hands on at the winery, which is why I prefer to work at small/boutique wineries, so I can do all round work. I really enjoy the blending side of the craft (winemakers' greatest secret!). It is kind of comparable to cooking (and I love cooking!)"
Come and try your hand at blending with Tersina in the Blend Your Own Bordeaux Workshop

Read more about Tersina
YUMMY QUIZ
The IWC Team was shocked that with all the knowledgeable wine connoisseurs among the Yummy News readers, nobody correctly guessed last month's competition.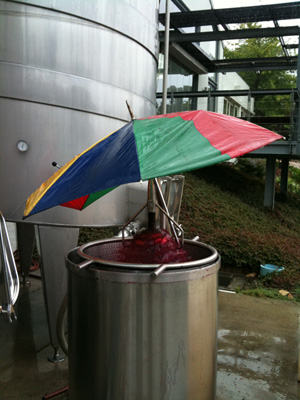 The answer was: The umbrella is protecting the wine from dilution during pump over, on a rainy day in Stellenbosch.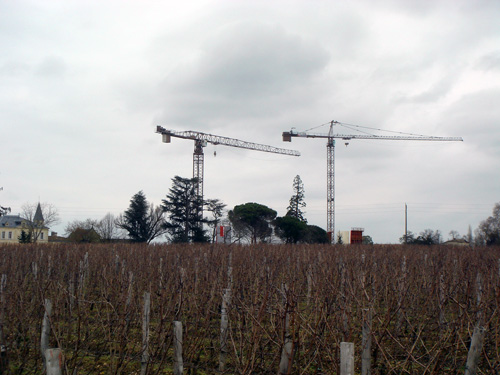 April Competition (a tricky one!):

Château Cheval Blanc is undergoing major cellar improvement. What is so unusual about the cranes in this picture?
Prize: Two bottles of wines from Simon's cellar (with all his global wine travels, you know you'll be in for a treat!)
Get In Touch
For further inquiries, please visit our web site http://www.iwinecentre.com or email admin@iwinecentre.com or telephone :(852) 2549 0181